---
Staff Profile – Dan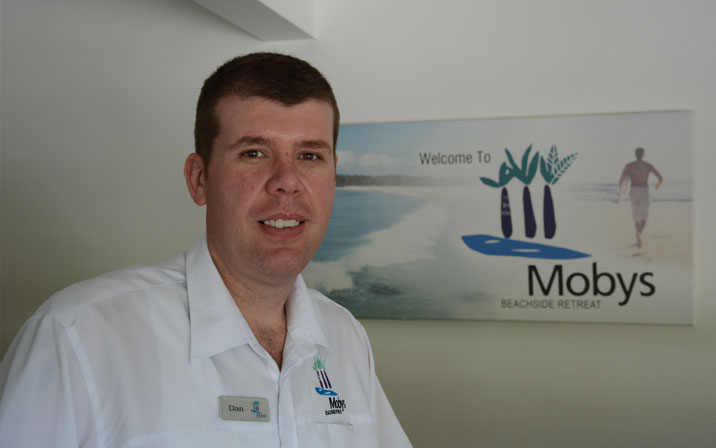 Dan Ling
Front Office
Reception, Reservations, Weddings & Events co-ordinator
Dan was born & bred in the NSW Hunter Valley and for as far back as he can remember Pacific Palms,
Forster and the Great Lakes region was always his families first choice of holiday destination.
"There is something special about this area that brings people back time and time again. Its' magic!"
In 2012 Dan accepted a full time position at Mobys. His main roles in front office include looking
after our guests, reservations and co-coordinating our weddings and events.
"Initially the first few weeks were crazy. I accepted Chris & Robyn's offer to work at
Mobys, I packed all of my belongings into a truck and made the move to
Boomerang Beach. I had'nt even secured somewhere to live.
The opportunity to live and work in such a beautiful location was just too good to pass up"
The best parts about my job are;
1.seeing a familiar face come through the door. My first job was in retail and I loved seeing my regular
customers on a weekly, if not daily basis. I miss that. Working in our industry we may only our guests every
few months or even once a year so It's always great to catch up and welcome them back.
2. Receiving great feedback from our guests, conference delegates, restaurant visitors and our brides & grooms.
We love doing what we do and what we offer and we love hearing that you've enjoyed your visit.
It make our job far more enjoyable and rewarding.
3. The food in our restaurant. I love eating and our food is sooo good! seriously… it's amazing!
When Dan is not at work he enjoys fishing, camping & travelling. If you see Dan at Mobys or around town on his
day off (at the shops or the beach or at his favourite drinking spot.. the Recky Club) stop and say hi.